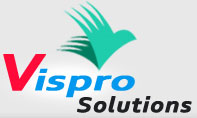 Services
When time is of the essence, value is scrutinized, and projects must deliver - you need to speak with consultants who ask the right questions, work with you to recommend the right solutions, and have a passionate dedication for meeting goals.

Vispro is a successful global solutions provider, with a portfolio of Oracle and Microsoft services to suit the widest range of IT and business needs. We have long, in depth expertise in using Microsoft technologies to maximiz e business growth and our expertise, blended with onsite and offshore resources, provide a definite cost advantage. Our methodology, improves the process of Microsoft implementation and our experienced business consultants execute projects on time and budget. Vispro is a Microsoft Gold Certified Partner.

By adhering to CMM Level 3 quality standards, we are able to deliver error-free solutions on Oracle, Microsoft and provide assured business value, quality & reliability. We are committed to long-term improvement, not band-aid solutions or technology built with no enduring stakeholder value. Our approach is collaborative, and we assist our customers realize their full potential by turning data into information, harnessing information for business benefit, and transforming ideas into action. Vispro's loyal customer base is a testament to our service quality and delivery and the real difference we make to an organization 's business.